Communications, shopping, social networks, games, videos, music, Internet of Things… The Web is (nearly) everywhere in our lives and most of us are only using it passively, only consuming content, without much thinking about how it works and how we could use it for our needs.
This course will guide you to dive into web technologies through different projects, providing you with professional resources and tools.
You can consult the syllabus for this course here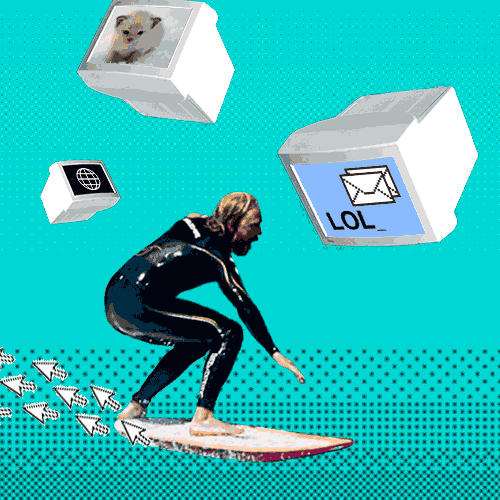 ---
Why this course?
This course does not intend to make you web developers (this is not a Computer Science course), but instead to let you understand these technologies, what they imply, their languages, how they work and how you can take advantage of those.
We are well aware that most of you have never done programming, and won't be coders, but on the other hand, all of you will be managers or entrepreneurs working on projects where Web technologies are more and more present. From then on, understanding the technological approach, discovering the "behind the scenes" is part of a future manager's general culture. From now on, the companies that recruit you are more attentive to this and to softskills than to more traditional management courses.
Learning skills, not professions
Many jobs are disappearing or are currently being reinvented. In 1984, a competency was valid for approximately 38 years. Today we are approaching 5 years. It is now essential to be agile. We trust that the best way to do this is to make, unmake, remake. That's why we give you the opportunity to discover how to prototype, test, design and share a product quickly, by making.
---
Our program
You'll find below two great projects made by our students last year. If you are active and commited to this course, you will be able to accomplish projects of the same quality ✨
But first things first, no need to rush to the end of the course. Before achieving these kind of results, you will need to carefully follow these parts.

During the first part, we'll set up the tools for this whole course, learn the basics of languages used for Web, discover a few tools (frameworks, libraries…) to help you make your firsts projects.
In this part, we'll learn about Web Architecture. And we'll answer questions like: What is the Internet? The Web? What are clients and servers? Then you'll have access to different modules to explore following your interests, like AI, databases, APIs…
For the third and last part, you're going to work on a project of your own in small groups tutored by a professional, during 4 weeks.
---
An online course, why?
You can follow it where and when you want, to progress according to your availability and at your own pace. The topics we will cover in this course are complex and completely new to most of you. It is important that you can assimilate these notions correctly, in a calm environment, rather than being lost in an auditorium where the individual pace of learning cannot be taken into account.

A follow-up closer to the learners: with the implementation of tools like Slack, you have a tool dedicated to the course where you can find the information related to the course without cluttering your emails and Messenger, that you can put on hold when you want and where you can ask your questions to the teaching team but also to all the other students of the course, and get answers in real time (on convenient schedules of course) without the formalism of an email.

Not only online! The makers' labs of Écully, Paris and Saint-Étienne, are third places within the emlyon campuses, spaces where you can come to experiment/learn/work alone or in groups, and exchange with the students on site as well as the makers' lab team present every day.

To learn to be more independent: taking an online course requires more discipline than a traditional course because you must be autonomous and organized, and this is what will be expected from you in your future profession.

This course has been designed according to the philosophy and pedagogical objectives of emlyon business school, in order to train the managers and entrepreneurs of tomorrow: it has been designed exclusively for you!

To give you more time for practice and experience: knowledge, technology and the labour market are evolving very quickly. By giving you the chance to make by yourself, we enable you to acquire long-lasting skills because the knowledge acquired through experience is more sustainable.
Throughout the course (as during the rest of the year), you can come to the makers' labs to work individually or in groups and access the computers, machines and softwares. You can find opening time and more on the makers' lab website.
---